Improvements to the quoting widget
Posted by getSoapy on 13th September in Product Updates. Last updated: 13th September
The quoting process is often where customers are won or lost. It's perfectly normal for customers to request a quote from several window cleaners, so if you take too long to reply you may have lost the customer before you've even started.
To help you win customers right from the beginning we offer an industry leading quote widget. In fact, it was our very first product.
Today we're thrilled to announce several major updates to the quote widget, to help you convert even more leads into customers.
New Building Type and Bedrooms Field
We've added two new fields into the quoting widget - building type and number of bedrooms. In many cases this information, along with the address, is enough to give you a good idea of the window cleaning quote.
Responding with a quote immediately, giving a high and low estimate, can help secure the customer before you even visit them. If they're happy with the price range you can do a combined quote and first window clean when it fits in with your round (assuming everything is as expected).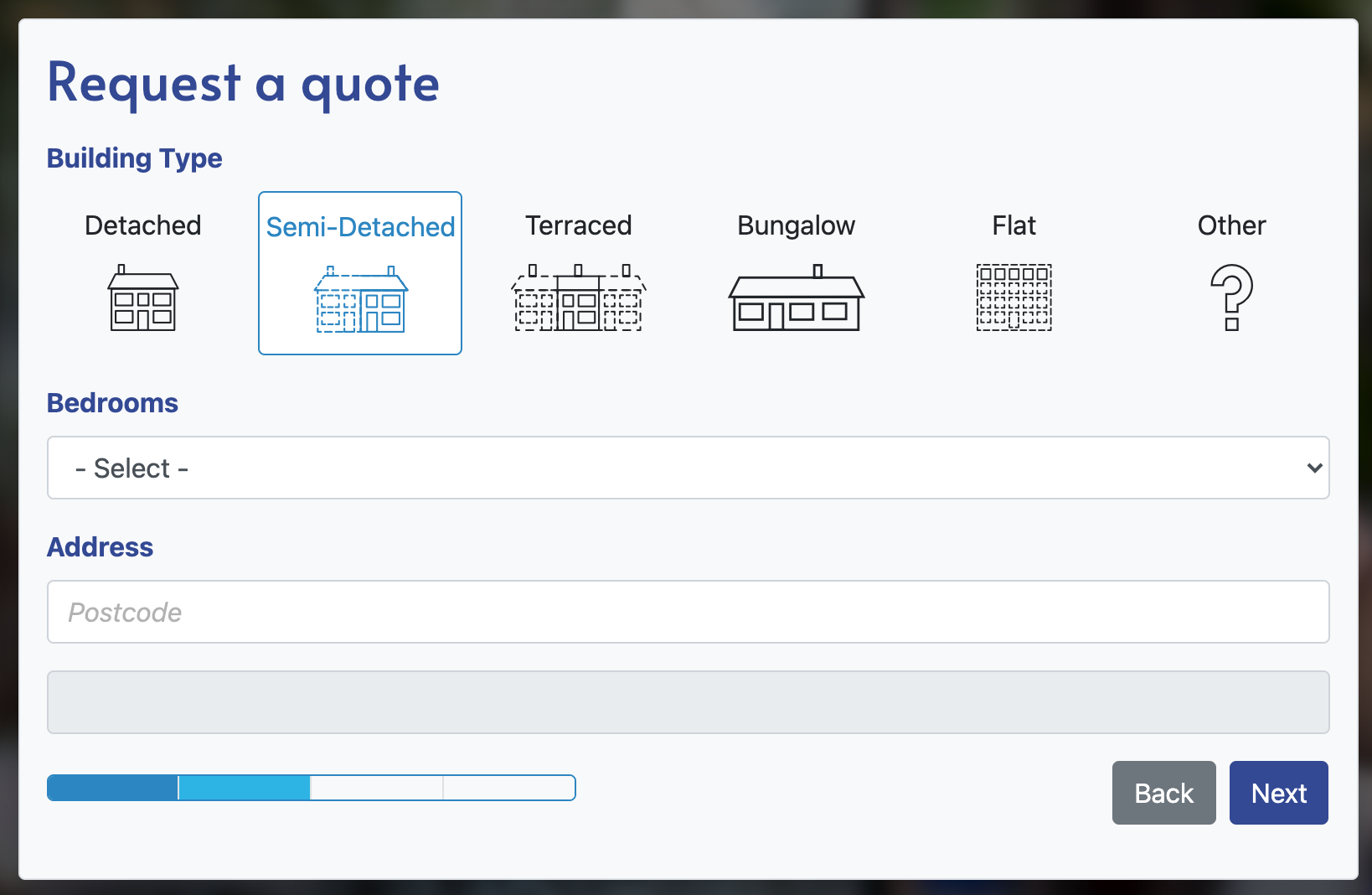 Improved User Experience
To help improve the conversion rate (the number of people who complete the form), we've improved the user experience.
Instead of one big long form, which can put people off, we've broken it into pages. Now, leads will now step through four short pages of fields. Although the form is technically longer, the form feels shorter and more people see it through to the end.
If you prefer to show users the entire form at once, this can be disabled when you initialise the widget.
Other improvements
We don't like to do things in small measures, so we packed in a few more features while we were at it.
Hideable fields
It's now possible to hide more fields, in case there's any information you'd rather not capture. This includes the new building type and bedroom fields, but also frequency, availability and consent.
Data privacy
As it's important that customers know they can trust us with their data, and how we'll secure it for them, we've now included an explicit 'terms and conditions' checkbox in the quoting widget.
Conversion tracking
You can now include a JavaScript callback which is triggered when a quote is submitted. This is a more advanced option, but is extremely useful if you're using custom online advertising campaigns to generate leads.
Whats next?
Is there a feature you'd like to see aded into the quote widget? We're always keen to hear your feedback, so find our social media links below and let us know!
Free Trial
The best way to experience how getSoapy can help your business is to try it for yourself.
1 Month of Soapy+
25 Free Lead Credits
100 Free SMS Credits
No payment details required
Cancel any time